La relación de la princesa Ana con el rey Carlos III en 2023
El día en que el príncipe Harry, ahora residente en Santa Bárbara, desveló la portada de sus memorias el pasado octubre, otro «recambio» real estaba en Uganda, reuniéndose con familias en un asentamiento para refugiados que huyen del conflicto en la República Democrática del Congo. En los periódicos del día siguiente no se mencionaba la visita de la princesa Ana al campamento con Save the Children, la organización benéfica con la que colabora desde hace más de medio siglo. Pero, si alguien lo hubiera notado, la yuxtaposición de «repuestos» –ese papel perennemente tenso en cualquier dinastía– era esclarecedora.
En su juventud, Ana, que llegó a ser tercera en la línea de sucesión al trono, estaba molesta por el intenso interés de los medios de comunicación por su vida privada. También ella tenía fama de irritable. Padeció traumas, como un intento de secuestro a mano armada en 1974. Y carecía del destino claramente definido de su hermano mayor. Sin embargo, Ana lo superó todo con un estoicismo y una ética del trabajo tan inquebrantables como su característico peinado bouffant. Debido a las arcaicas leyes de primogenitura, Ana, que ahora tiene 72 años, ha pasado a ocupar el puesto 16 en la línea de sucesión al trono. Pero este rango tan bajo oculta su contribución, su popularidad y un renovado protagonismo. «En muchos círculos palaciegos se cree que ella es el mejor rey que nunca tendremos«, escribe Tina Brown en su libro The Palace Papers.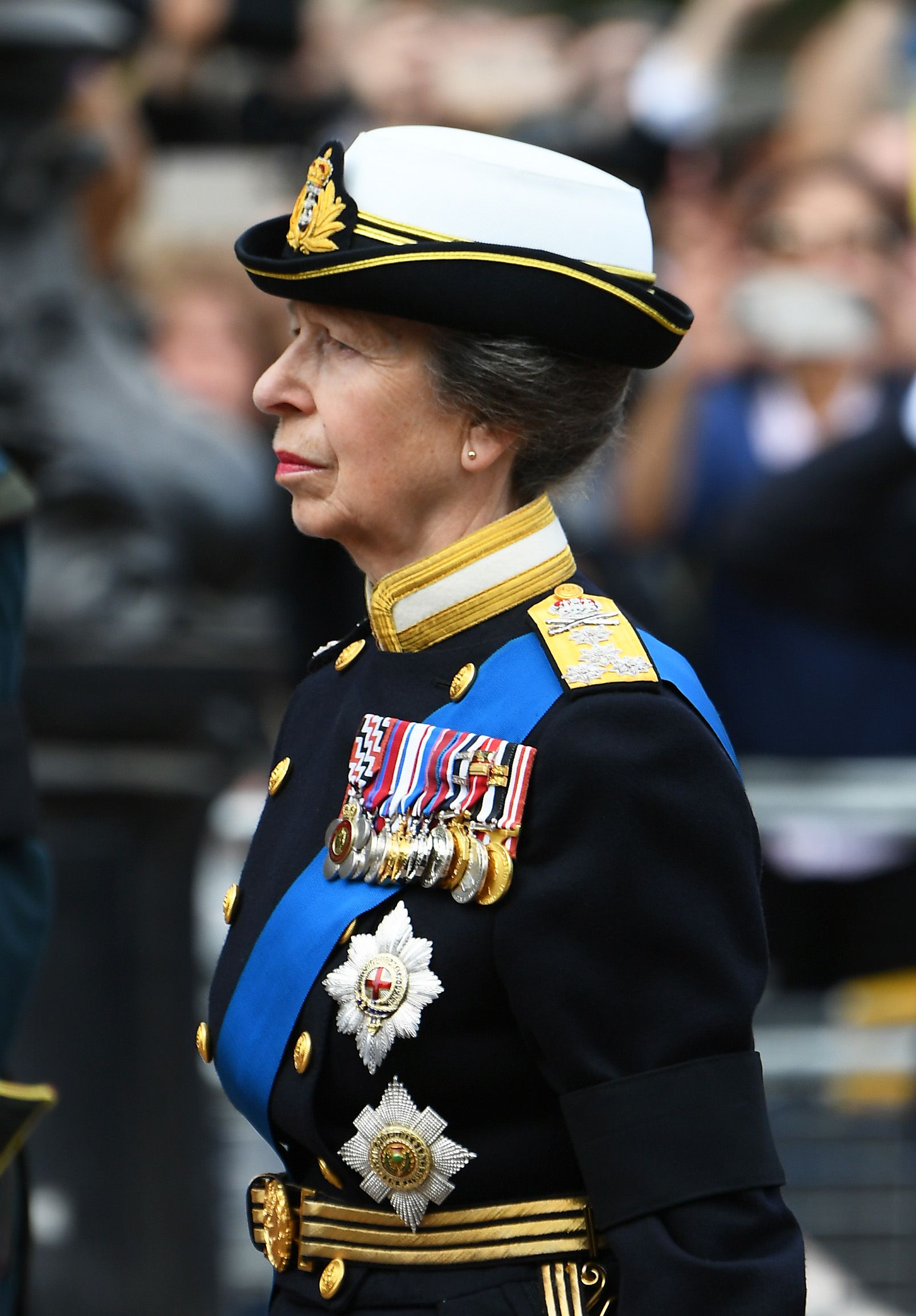 Vestida de uniforme militar para el funeral de la reina, solo unas semanas antes de su viaje a Uganda, la princesa Ana fue la única mujer que se unió a la solemne marcha detrás del féretro en la procesión hasta la abadía de Westminster. En un momento dado, mientras los ojos de Carlos brillaban y su mandíbula se cerraba con fuerza, una serena Ana se volvió para mirarle con un silencioso mensaje de apoyo.
«Probablemente la acercó a un público mundial que antes no se había fijado mucho en ella», dice Phil Dampier, veterano corresponsal real, sobre el funeral. «Y estoy seguro de que Carlos contará mucho con ella en los próximos años, y de que desempeñará un papel mucho más importante».
La humildad se ha convertido quizá en el mayor activo de Ana. «Esa fue la perdición de Harry y Meghan: Había demasiado ego», dice Valentine Low, corresponsal real del Times de Londres y autora del nuevo libro Courtiers: Intrigue, Ambition, and the Power Players Behind the House of Windsor. «Ana no tiene ego. Reconoce que este es su trabajo y que hay que seguir adelante».
La princesa Ana nació en el verano de 1950. Aún no tenía tres años cuando le dijeron que saludara a la multitud en la coronación de su madre. Fue el primer compromiso de una vida de obligaciones de la que no podía escapar. «La idea de renunciar es imposible», diría más tarde.
Al igual que gran parte de su carácter, se cree que la ecuanimidad es uno de los rasgos que ha heredado de Felipe de Edimburgo, quien quizá también le inculcó cómo servir en la sombra. «Es, en gran medida, hija de su padre, de una forma en que Carlos nunca podría ser hijo de su padre», escribe Ingrid Seward, una veterana biógrafa real, en su libro Royal Children.
Ana y Carlos, que se llevan menos de dos años de diferencia, mantienen un estrecho vínculo que, según dicen, se ha afianzado tras la pérdida de sus padres. Sin embargo, en los primeros años, el favoritismo paterno quizá alentó la negativa de Ana a doblegarse ante el heredero. Eileen Parker, una amiga íntima de la familia, contó a Seward que de pequeña «tomaba el mando de las cosas. Si veía un juguete que quería, lo cogía. También cogía todo lo que Carlos quería».
Durante su infancia en Londres, Windsor y Balmoral, Ana aprendió a montar a caballo y a navegar con más destreza que su hermano, más frágil. Fue más lista y segura de sí misma en las aulas, bajo la tutela de una institutriz hasta los 13 años y después en Benenden, un internado femenino cerca de Londres. (Declinó la oportunidad de ir a la universidad).
Durante su infancia, todos los focos estaban puestos sobre ella. De joven era conocida por su glamour y su sentido de la moda. No desentonaba cuando apareció en la portada de Vogue a los 21 años. Según Brian Hoey, autor de una biografía autorizada de Ana, los jóvenes aristócratas la acompañaban a los clubes nocturnos londinenses, y en una ocasión subió al escenario para bailar con el reparto tras una representación del musical Hair.
Gran parte del interés se centraba en los posibles pretendientes. Ana sólo tenía 14 años cuando el príncipe Carlos Gustavo de Suecia se perfiló como favorito, al menos en la imaginación de los editores de periódicos. Entre sus primeros amantes estaba Andrew Parker Bowles, que más tarde se casaría con Camilla Shand, actual reina consorte. Pero lejos de las especulaciones, Ana se estaba haciendo amiga de Mark Phillips, un oficial del ejército y campeón ecuestre que le había presentado la Reina Madre en una fiesta tras los Juegos Olímpicos de 1968.
No fue hasta 1973, tras meses de especulaciones y airados desmentidos de la princesa, cuando la pareja se comprometió. Al parecer, la Corona no estaba muy entusiasmada con su elección. Se dice que Carlos apodó a Phillips «Niebla» porque lo consideraba húmedo y espeso. En cualquier caso, el enlace fue la primera emisión real de la era de la televisión en color, ocho años antes de la boda de Carlos y Diana.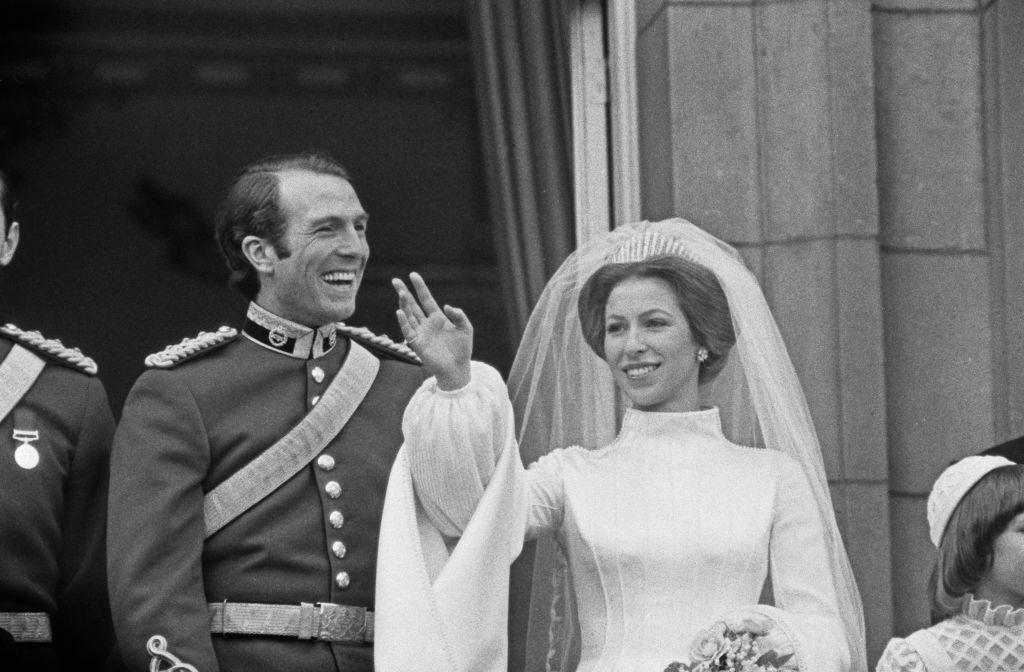 La novia, de 23 años, había descubierto las dos cosas que vertebrarían su vida adulta: los caballos y las organizaciones benéficas (y, en la medida de lo posible, las organizaciones benéficas de caballos). Tenía 19 años cuando se convirtió en presidenta de Save the Children, la más destacada de una lista de mecenazgos que ha crecido hasta incluir a más de 300 organizaciones.
La princesa podría haber mantenido los compromisos al mínimo respetable mientras llevaba una vida de privilegios en Gatcombe Park, la finca de Gloucestershire que la reina compró para ella en 1976 y donde aún vive. Ambas mujeres tenían otras ideas. «Según tengo entendido, la reina había pedido al presidente de Save the Children que le proporcionara una función que la involucrara», dice Mark Bowden, que se incorporó a la organización benéfica en 1979.
Bowden, que viajó con la princesa Ana más de una docena de veces, recuerda que a principios de la década de 1980 la princesa ignoró las advertencias del gobierno de no visitar Somalia. «Creo que su secretaria privada estaba más preocupada porque tendría que usar la letrina de pozo en la casa del equipo en Borama», dice Bowden. Describe a una princesa culta sin aires de grandeza, alguien que era feliz viajando por caminos de tierra en Land Rovers y preparando el desayuno. «Tiene una receta extremadamente buena para huevos revueltos que todavía uso», dice Bowden. «Básicamente, se trata de mucha mantequilla».
Siempre con ganas de ayudar, la princesa real, como se la ha llamado desde 1987, se hizo famosa por su imperturbabilidad frente al sufrimiento. Durante un viaje de 1993 a Tashkent, Uzbekistán, visitó un austero hospital para niños con parálisis cerebral. Penny Junor, contemporánea de la princesa Ana en Benenden y más tarde corresponsal real y biógrafa, recuerda que Ana señalaba a los niños «como si fueran esculturas en una mesa de tablones. Parecía bastante indiferente a la vista de sus miembros retorcidos, pequeños rostros brillantes y valientes y ojos marrones líquidos. Ella no se acercó a ninguno de ellos. No sonrió. Ni siquiera realizó contacto visual".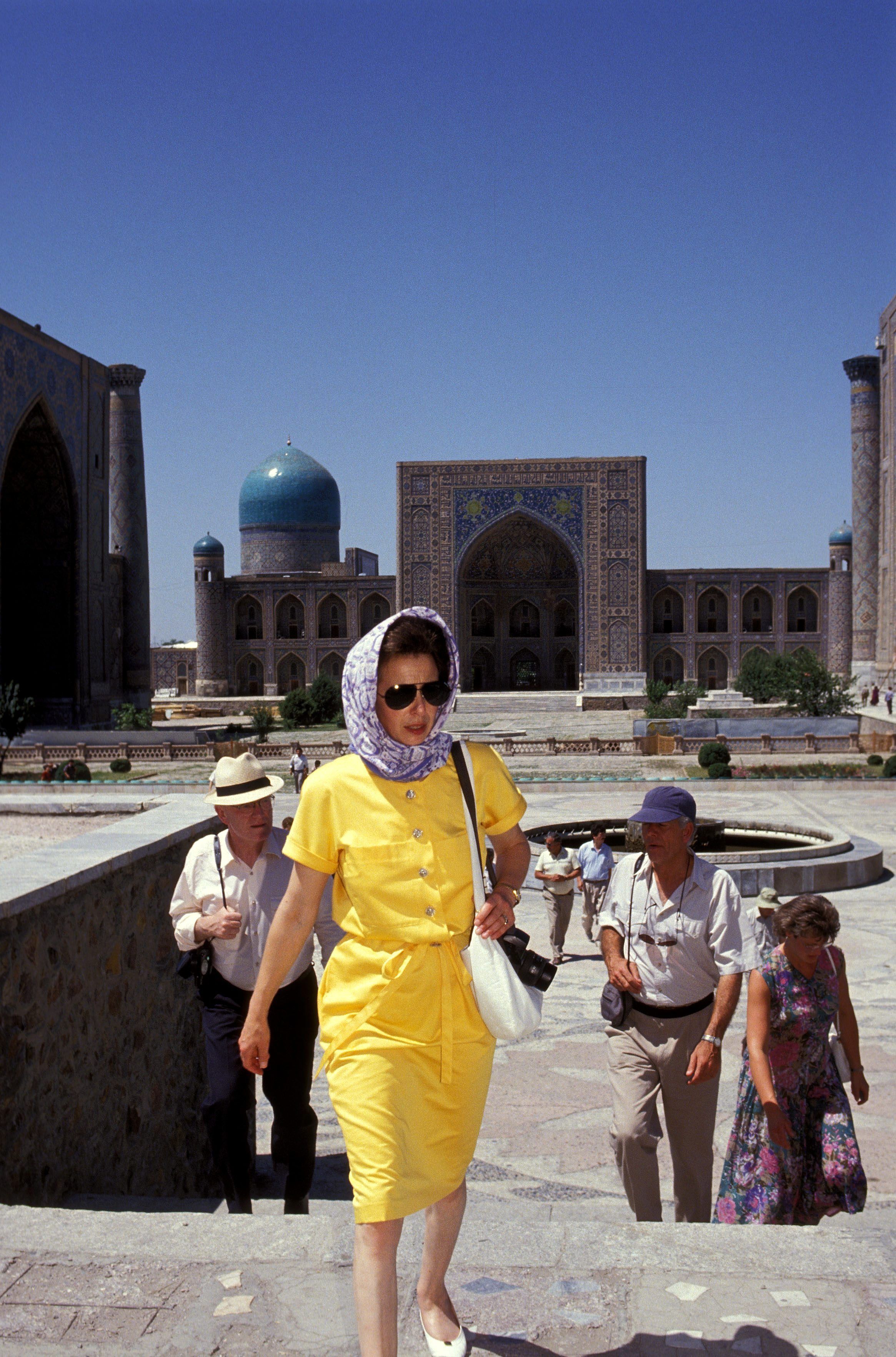 Con su labio superior rígido como el granito, Ana comenzó a sufrir en comparación con la princesa Diana, quien, en la misma semana del viaje a Uzbekistán, estaba siendo fotografiada en África alimentando con cucharadas de gachas a los niños y abrazando a los bebés demacrados. Sin embargo, como la propia Junor señala en su libro The Firm, el enfoque de Ana en los detalles en lugar de buscar la oportunidad para realizarse fotografías la ha hecho indispensable para cientos de causas. «Lo que los periodistas querían que hiciera era que cogiera en brazos a un bebé y se echara a llorar, pero ella dijo, con mucha razón, 'Esa no soy yo'», dice Bowden. «Lo que hizo fue darnos acceso a los jefes de estado. En Uganda interrogó al presidente Museveni sobre los niños soldados y fue muy franca. En Somalia retó al presidente por la mutilación genital femenina. En términos de promoción de alto nivel, eso fue muy importante".
La princesa Ana tenía fama de ser brusca en casa, y era famosa por decirles a los fotógrafos que se «despidieran», entre otras expresiones. «Es una de las personas más groseras con las que me he cruzado», dijo Junor en 2001. Sin embargo, su frialdad le fue útil en 1974, cuando un hombre se detuvo frente al Rolls-Royce de ella y su esposo y le ordenó que se bajara. «No es muy probable», se rumorea que dijo. El incidente se ha convertido en una nota a pie de página casi humorística, gracias en parte a la frialdad de Ana al contarlo, pero debió ser aterrador. El posible secuestrador, que llevaba dos pistolas y una nota de rescate que exigía 2,3 millones de euros a la reina, trató de sacar a la princesa de 23 años del coche. Phillips ganó el tira y afloja, pero cuatro hombres recibieron disparos en el tumulto.
Ana también fue valiente a lomos de un caballo, sobresaliendo en los peligrosos circuitos de pruebas de las casas de campo inglesas (que incluye a Gatcombe), así como en los Juegos Olímpicos de Montreal en 1976. «Si no se tira pedos o come heno, no le interesa», cuentan que bromeaba Felipe de Edimburgo sobre la afición de su hija. Sin embargo, tales hazañas hicieron poco para distraer a los medios de su vida privada, incluido el rumor de un romance con su guardaespaldas, Peter Cross, quien vendió su historia en 1985. (El Palacio de Buckingham no hizo comentarios).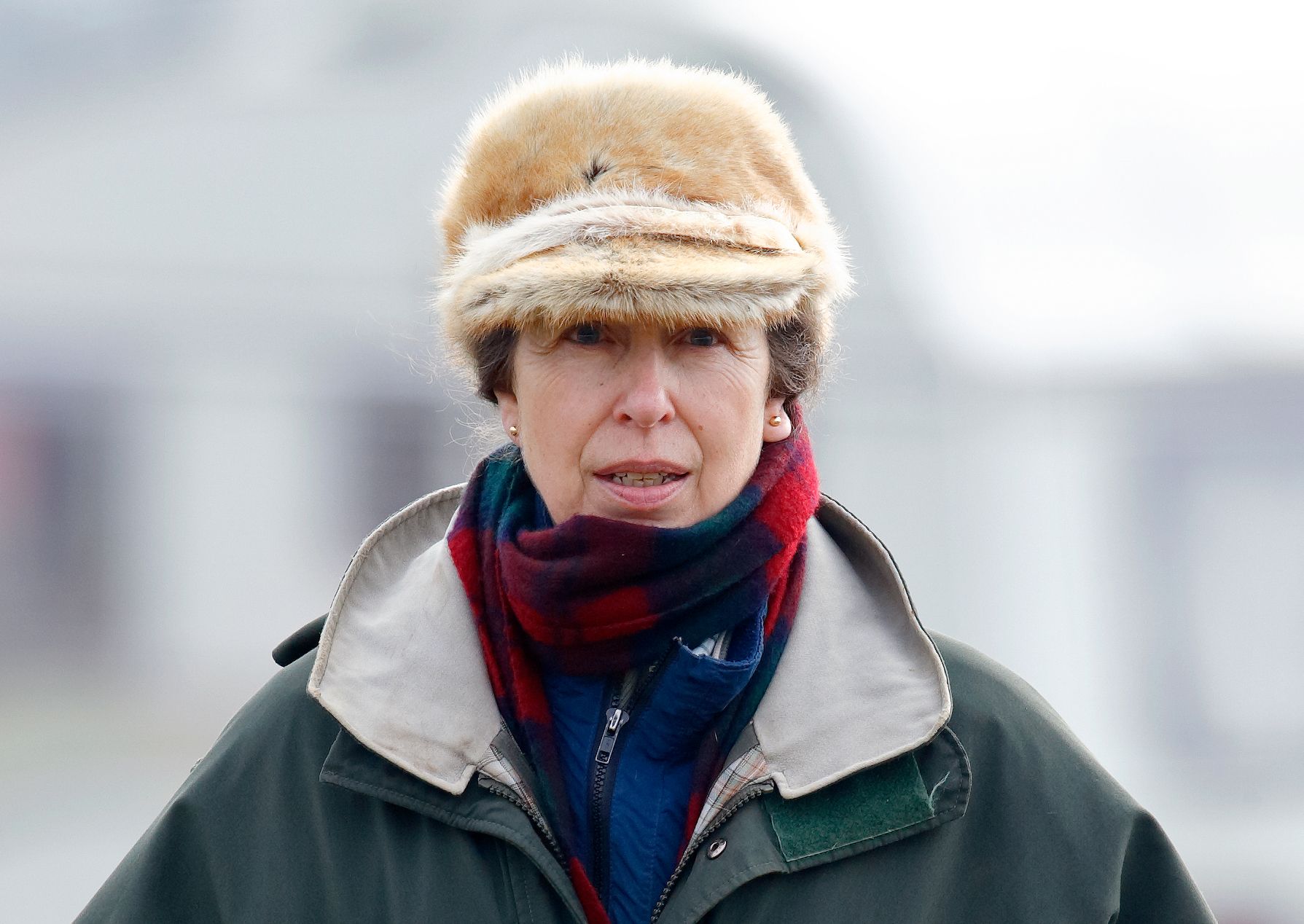 En 1989, la princesa Ana y Phillips anunciaron su separación. Para entonces, la princesa se había acercado a Timothy Laurence, un comandante naval. Se divorció de Phillips y se casó discretamente con Laurence en 1992, el «annus horribilis» de la reina. Sin embargo, tal fue el escándalo que sacudió al resto de la familia real que Ana comenzó a disfrutar de un perfil más bajo. A pesar de una condena penal en 2002, sin precedentes para un miembro de la realeza, después de que su bull terrier inglés Dotty mordiera a dos niños en el Gran Parque de Windsor, se ganó un creciente respeto público, cercano al afecto, por su modestia, ingenio y diligencia, a menudo asumiendo cientos de compromisos al año.
Ana todavía tiene en su armario prendas de la década de 1980 y apenas ha cambiado su peinado. Se quedó atónita al saber que se habían tardado horas en crear el bouffant en las primeras temporadas de The Crown, que la princesa admitió haber visto ocasionalmente. «¿Cómo se pudo tardar tanto tiempo?» dijo de su recogido, que en la última temporada se logró mediante una peluca. «Quiero decir, me lleva 10 o 15 minutos».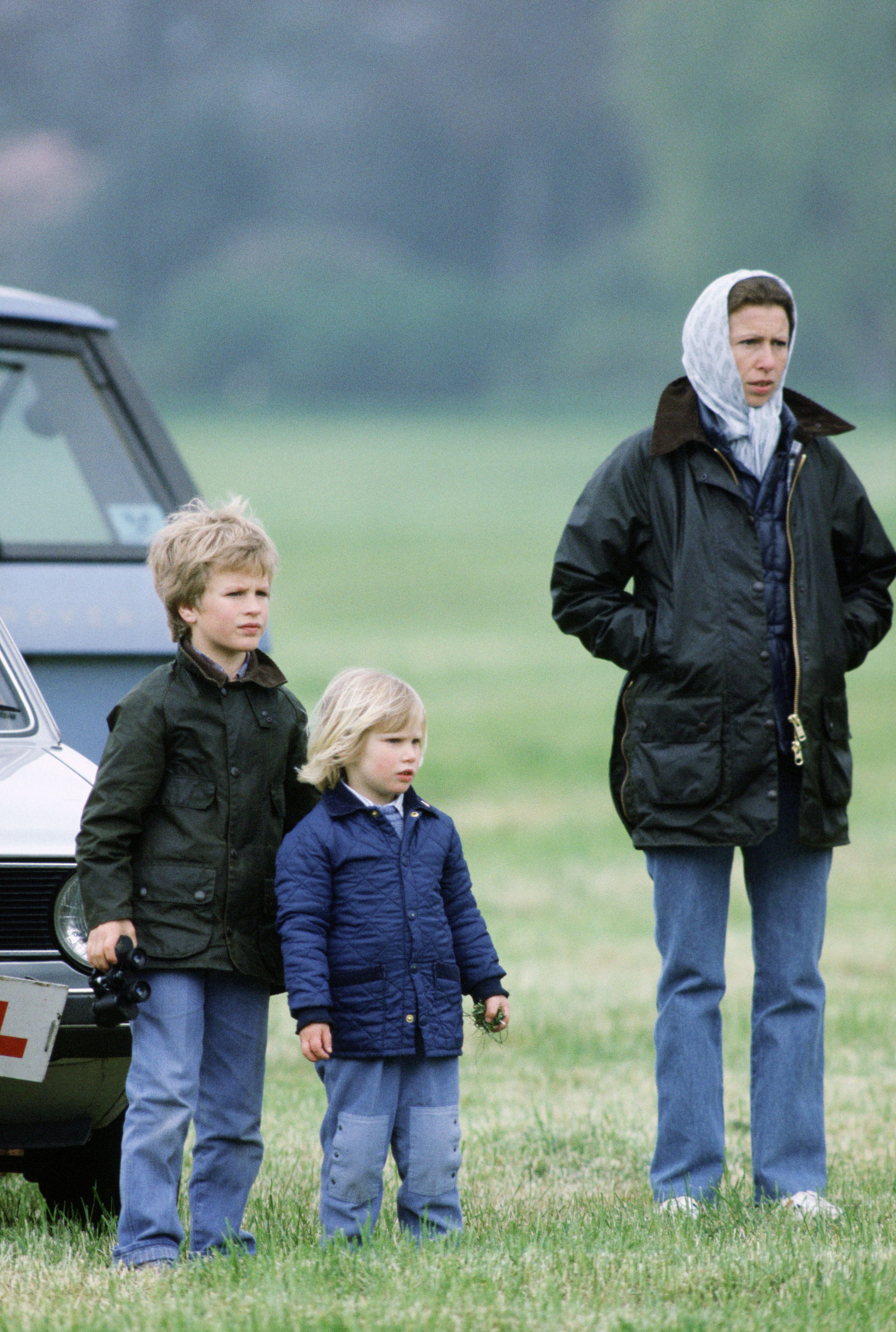 Cuando Peter y Zara nacieron, en 1977 y 1981 respectivamente, Ana les ahorró los títulos reales a sus hijos. «Creo que la mayoría de la gente argumentaría que tener títulos tiene sus desventajas», dijo en una entrevista en 2020. En 2022 se esperaba que toda la familia real se reuniera con sus mejores galas en el balcón del Palacio de Buckingham durante las celebraciones del jubileo de la reina. Pero, en su primer movimiento simbólico hacia una monarquía 'reducida', Carlos persuadió a la reina para que excluyera a sus tres hijos menores. Los príncipes Andrés y Eduardo aparentemente estaban consternados. «Fue como una daga en su corazón», dijo una fuente a Valentine Low sobre Andrés. «A la princesa Ana, por su parte, 'no le importaba nada'».
Más recientemente, las polémicas que han envuelto a los príncipes Andrés y Harry solo sirvieron para resaltar el estilo digno de Ana, así como su discreción, rasgos quizás heredados de su madre, con quien se dice que cada vez se sentía más cercana. «Ella es todo lo contrario a Harry», dice Dampier. «Él es de mucho hablar y poco hacer y está obsesionado con la prensa, mientras que a ella no le importa un carajo y simplemente sigue adelante».
En 2020, la princesa reflexionó sobre las actitudes de los jóvenes miembros de la realeza. «No creo que esta generación más joven probablemente entienda lo que estaba haciendo en el pasado, y a menudo es cierto, ¿no es así?» le dijo a Vanity Fair. «No necesariamente miras a la generación anterior y dices: 'Oh, ¿hiciste eso?' O, '¿Fuiste allí?' Hoy en día están mucho más buscando, 'Oh, hagámoslo de una nueva manera'». Y añadió: «Por favor, no reinventes esa rueda en particular… Es posible que tengas que volver a lo básico».
En noviembre pasado, el rey Carlos inició un cambio a la ley que ampliaría el grupo de miembros de la realeza que pueden actuar como representantes en su lugar. Hasta ahora, los «consejeros de estado» han sido automáticamente la esposa del rey más los cuatro miembros de la realeza que le siguen en la línea de sucesión. Pero eso incluiría a los príncipes Andrés y Harry, que ya no están en el cargo, por lo que la princesa Ana y el príncipe Eduardo han ascendido. «Creo que se le debería dar tanto poder como Carlos pueda darle, pero no creo que eso cambie su estilo fundamental", dice Dampier de Ana.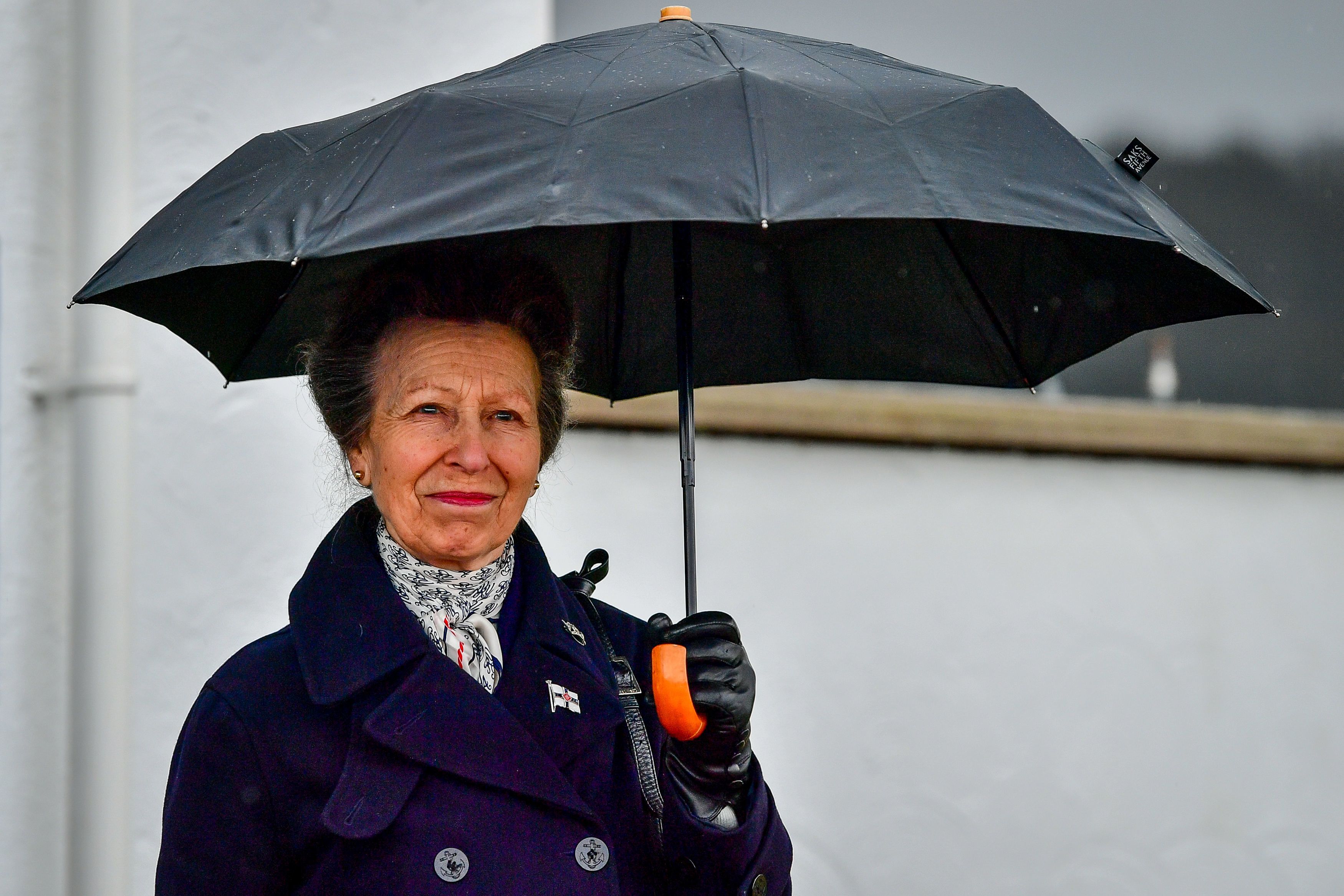 No hay duda de que tiene apoyo popular. Las encuestas realizadas durante el período de sucesión colocaron a Ana en el cuarto lugar en cuanto a popularidad real, solo por detrás de la difunta reina y los príncipes de Gales, y bastante por delante del rey.
Independientemente de su función oficial, una cosa está clara: la princesa Ana ya está haciendo el trabajo. En 2020 participó en un documental de televisión para conmemorar su 70 cumpleaños. Zara Tindall, su hija, que le ha dado tres nietos, habló sobre la incapacidad de su madre para quedarse quieta. Cuando se le preguntó si alguien alguna vez intenta que la princesa disminuya la velocidad, Tindall, de 41 años, dijo: «Quiero decir, buena suerte. Lo intentaríamos y, ya sabes, sería una conversación muy corta».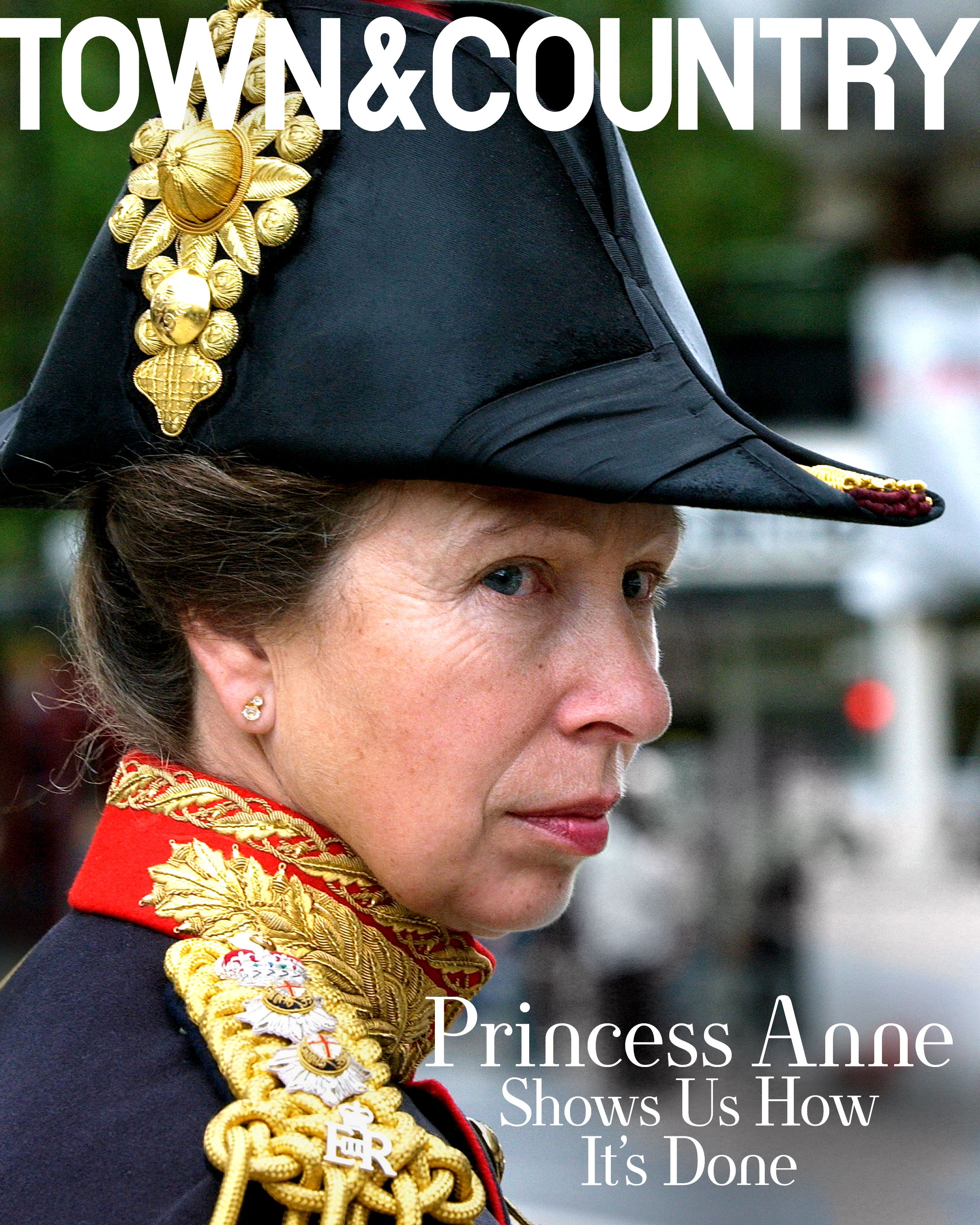 Este artículo pertenece a la edición de febrero de 2023 de Town & Country.
Vía: Town & Country US
Fuente: Leer Artículo Completo